Raw Probiotics Ultimate Care, 100 Billion CFU, 30 Vegetarian Capsules
41456
This is a carousel with one large image and a track of thumbnails below. Select any of the image buttons to change the main image above.
Raw Probiotics Ultimate Care, 100 Billion CFU, 30 Vegetarian Capsules
41456
Size:
1 | 30 Vegetarian Capsules
- In Stock
More Information
Supplement Facts
Serving Size:

1 Vegetarian Capsule

Servings Per Container:

30
product

Amount
Per Serving
% Daily
Value
(DV)
Replenish Blend

ISS Bif™ Bifidobacterium Lactis (SD-5219), Lactobacillus Acidophilus (SD-5221), Lactobacillus Paracasei (SD-5218), Bifidobacterium Lactis (SD-5220), Raw Whole Food Probiotic Blend (Eastern European Wild Kefir Culture containing): Bifidobacterium Lactis Bifidobacterium Longum, Lactobacillus Acidophilus, Lactobacillus Brevis, Lactobacillus Bulgaricus, Lactobacillus Casei, Lactobacillus Fermentum, Lactobacillus Helveticus, Lactobacillus Kefiranofaciens, Lactobacillus Kefirgranum, Lactobacillus Rhamnosus, Lactococcus Lactis, Lactococcus Cremoris, Streptococcus Thermophilus, Lactobacillus Kefir, Lactobacillus Parakefir, Lactobacillus Plantarum, Lactococcus Lactis Biovar Diacetylactis, Leuconostoc Lactis, Leuconostoc Mesenteroides, Leuconostoc Cremoris, Leuconnostoc Dextranicum, Kluyveromyces Marxianus, Brettanomyces Anomalus, Debaryomyces Hansenii, Saccharomyces Unisporus, Saccharomyces Turicensis, Saccharomyces Cerevisiae, Saccharomyces Exiguus, Torulaspora Delbrueckii

100 Billion CFUAmount
Per Serving

*

Protein-Digesting Enzyme Blend

Protease, Acid Protease, Protease S

50 mgAmount
Per Serving

*

Eastern European RAW Fruit & Veggie Blend

Red Bell Pepper (Fruit), Green Pea (Seed), Carrot (Root), Plum (Fruit), Cherry (Fruit), Strawberry (Fruit), Raspberry (Fruit)

45 mgAmount
Per Serving

*
Other Ingredients:
Vegetable Cellulose.
Directions:
Adults take 1 capsule daily. May be taken with or without food. Capsules can be opened. Contents can be taken directly with water or raw juices. Not intended for children.
WARNING:
†These statements have not been evaluated by the Food and Drug Administration. This product is not intended to diagnose, treat, cure or prevent any disease.

Keep out of reach of children. As with any dietary supplement, consult your healthcare practitioner before using this product, especially if you are pregnant, nursing, anticipate surgery, take medication on a regular basis or are otherwise under medical supervision.
Other Information:
Store in a dry place at 71°F or below. Best if refrigerated.
PipingRock's Passion for Quality is Backed by In-house Advanced Analytical Testing
PipingRock guarantees the highest quality because we design, manufacture, and test our supplements in our own state-of-the-art facilities.

Non-GMO Promise
At PipingRock, your health is our #1 priority. Genetically Modified Organisms (GMOs) are present in many dietary supplements, even though they have not yet proven safe for long-term consumption. PipingRock's commitment to bringing you safe, natural, premium-quality ingredients only does not allow for GMO uncertainty.
100% Satisfaction Guaranteed
We stand behind the quality in our products. If you are unhappy with your PipingRock product for any reason we will issue a full refund in accordance to our Return policy.
Raw Probiotics Ultimate Care, 100 Billion CFU, 30 Vegetarian Capsules
41456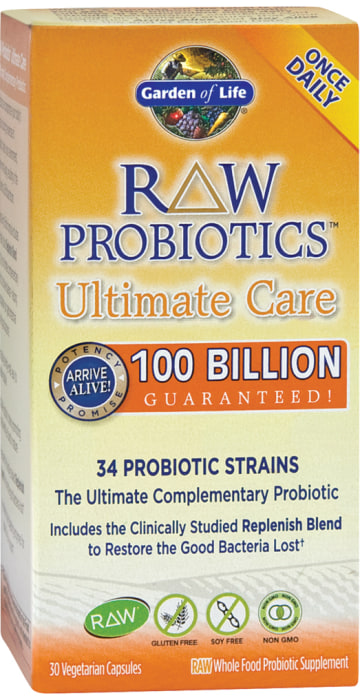 Raw Probiotics Ultimate Care, 100 Billion CFU, 30 Vegetarian Capsules
41456
Size:
1 | 30 Vegetarian Capsules
- In Stock
PipingRock.com
1-2 of 2 customer reviews
@anonymous
@anonymous@anonymous
Sep 14, 2022
Reviews 11
Vote 1
@anonymous
@anonymous@anonymous
Sep 16, 2021
Reviews 1
Showing 1 - 2 of  2  results.